The Active Side of Infinity:
Castaneda and shamanism
<![if !vml]>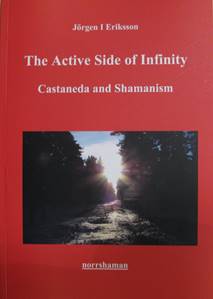 <![endif]>
ISBN 9789163990779, Paperback 92 pages.
More than 50 years after Carlos Castaneda's first book and 20 years after his death the interest in his legacy is growing. The 12 books on his apprenticeship with the Yaqui sorcerer Juan Matus contain fabulous stories but most of all an abundance of shamanic wisdom. According to Jörgen I Eriksson, who has worked in the Nordic shamanic tradition for 40 years, Castaneda's works represent deep shamanism from which present-day students of shamanism has much to learn. But it is necessary to keep Castaneda at arm's length. In this book Eriksson tries to extract the very best of Castaneda and in a way liberate Castaneda from Castaneda.
Although Castaneda himself always refused to be described as a shaman  I don't hesitate about categorizing him in that way, especially when considering the impact that his books have had and still have. He was not working as a healer but he fulfilled and developed other aspects of the shaman's traditional role, foremost as a spiritual inspirer and wisdom keeper. Furthermore he had a special way of writing that in itself can be characterized as shamanic. Reading Castaneda is mind expanding; the reading in itself might induce an altered state of consciousness. Castaneda didn't write about shamanism, he wrote shamanism.
When entering Castaneda's world a certain precaution and a critical distance is recommendable and my book is an attempt at de-mystifying and de-dramatizing Castaneda, putting him into a comprehensive shamanic context. The books in their entirety however contain fantastic life wisdom and many possible entrances to shamanism and Dreamtime. Every new reading seems to open up new perspectives into an almost inexhaustible source. We owe Castaneda many thanks for making this magnificent path of knowledge available to the world. From a plain literary perspective Castaneda does fit well into the Latin American magical realism as one of its most enthralling authors.
My book is a textual analysis of Castaneda based on my own experiences of 40 years of shamanic work in the Nordic tradition. My ambition is to provide a guide into Castaneda's authorship that offers a grand adventure to the patient reader. My hope is that it might work as a manual and a guide to some of the gateways into Dreamtime.
This book can be ordered by e-mail and will cost US $30, £20 or 25 Euros (postage included); within Sweden 160 SEK. When ordering the book, be sure to include your postal address. When confirming the order I will bill you via PayPal (or the banking SWIFT-system).
It is also possible to order the book from Amazon or the Swedish web sites Adlibris and Bokus.
My book on Rune Magic is also available in English: Rune Magic and Shamanism – Original Nordic Knowledge from Mother Earth. You can find more information here.